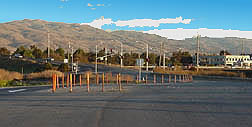 ---
Dixon Landing Road
---
To the west of the intersection of this road and McCarthy Ranch Road, very near the site of the BFI Newby Island landfill, was where a 49er, Mathew Dixon, built rough docks for flat bottomed scows and two masted schooners to load hay, and grain from the Milpitas area. One such ship is on display at the Maritime Museum in San Francisco.

Mathew Dixon enjoyed the spectacular view of Rose Peak seen above and of Monument Peak seen below. The latter is just to the left (north) of Rose Peak in the view above. The line of homes seen on Monument Peak are in Fremont. They do not consider the homes pictured to be on the hillside, which is protected from development. Elevation of Rose Peak is about 2,200 feet and that of Monument Peak is about 2,300 feet.

Both pictures were taken at sunset from near where Dixon operated his landing.